Custom Fabrication Card Displays in Acrylic, Plastic, & Metal with Logo
---
Custom Fabrication Displays for Business Cards - Literature Racks with Corporate Logo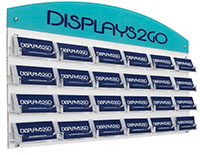 How can custom fabrication card displays increase brand recognition and keep customers returning to your professional office or retail boutique? Add a memorable corporate logo and tagline to poster, contact, and brochure holders to subtly remind customers where they got the great service! Submit your graphics to our experts and they will see that your artwork makes a splash on selected fixtures as specified. Expect quick-shipping for all in-stock items! These custom fabrication card displays, also known as literature racks, can be displayed in retail showrooms, professional offices, hotels, hospitals and trade shows to reinforce an organizational mission, or simply generate repeat business. Coupons for store services and gift merchandise can be placed strategically where they are more likely to be noticed, and purchased. The functional designs - and there are so many to choose from - of these contact and brochure holders blend flawlessly with just about any decor. Headers and footers offered with some of these marketing solutions anchor the advertising presentation visually. Corporate logos and slogans dress up business credential and brochure holders while subtly underscoring brand. Buyers for large companies select these branded point purchase accessories that can be bought in bulk to be a part of their marketing plans, passing huge savings onto their clients.
These custom fabrication card displays are literature racks designed to showcase and dispense every type of collateral pamphlet, newsletter, small poster, or contact publication, in the appropriate configurations. These POP rack holders are constructed of acrylic or plastic and in some cases they feature a metal stand. Depending on the size of your business and the amount of inventory, select fixtures for wall or counter mount. Choose a single contact dispenser with a personalized logo for desktop display, or order a large fixture with 48 slots for credentials that can be hung on a wall to save floor space. Whether seeking holders for point of sale or professional use, this complete selection has you or your clients covered from wall to countertop.
Store buyers, merchandisers, café and restaurant owners, marketing firms, department store chains, and virtually anyone interested in providing clients with high quality brandable dispensers for collateral publications benefit from simple, well designed products that boost sales and repeat business, cheaply. These literature racks with made-to-order graphics are easy to order. Just choose your fixture, submit your specs, and place your order. Our team experts will create the eye-catching messaging and your branded items will be turned around to you in no time.
What style literature racks are available in this collection of point of sale fixtures?
Custom fabrication card displays come small or large, with a single or pocket or multiple pockets, and in combinations of sizes to accomplish several marketing goals at once.
Brochure holders are popular items in real estate offices, in schools, and restaurants, virtually anywhere customers will be encouraged to read more about an organization whose office they are visiting and the products and services available.
Sign Frames make great counter announcements in real estate offices, in boutiques, and cafes whether advertising new menu selections, merchandise, or featured speakers. Some of our framing includes a contact information pocket for patrons who enjoyed visiting and want to return.
Gift card holders can be emblazoned with a branded tagline to gain notice and placed near a store register on a checkout counter during the holidays, or any time, for customers who can't decide on which merchandise or service to purchase.
Business card racks share professional contact information with patrons of an establishment and keep them connected after they leave; large wall units are typically used to distribute credential information for related businesses, and they can even be additional revenue producers.
The materials used in fabricating these custom fabrication card plastics are extremely durable. Some of these fixtures feature a header that can be imprinted with a logo or tagline, while others are plain. Wall hanging fixtures have push-out technology which dispenses a contact card one at a time, eliminating waste and preventing information from falling onto the floor. These customizable periodical dispensers come in as many configurations as business collateral itself does.
What types of publication dispensers and displays can be customized with a company or organizational logo?
Single pocket fixtures showcase gifts cards, coupons, and contacts inexpensively. Place a personalized card stand on a desk so your customers will be encouraged to grab your contact and do business with you later on.
Multiple Pocket: Tiered units can promote additional companies in a welcome center or large office with lots of employees; signage over the top helps customers identify contents from afar. Our biggest units have 48 pockets to distribute contacts from; our smallest? One pocket.
Combo styles blend credential, sign & brochure holders simultaneously so visitors have two or more ways to become educated about a company, its services or merchandise, and staff.
Desktop mounts typically offer a single pocket, or are tiered to accommodate pamphlets, a poster, newsletters, and contact cards.
Hanging card displays keep floor and counter space free, and are spotted easily by customers upon entry to an office or storefront. The units feature 24 or 48 pockets with a spring-loaded design that dispenses contacts neatly, one-by-one. Anchor the presentation with your logo emblazoned on the header, or a description of contents.
Each of these card displays demonstrates the highest level of craftsmanship and design expertise available in the plastic fabricating industry. Bulk prices enable buyers, merchandisers, and marketers to keep their clients under budget and on target. These accessories include a vast array of brochure holders, contact dispensers, and signs, with single and multiple pockets, or a combination of pockets to hold a couple of different publications in one stand. Commercial logos and taglines that will boost brand, advance a company message, and result in more sales are excellent business promotional tools. These periodical dispensers are a great solution for retail stores, too. These displays make a beautiful statement wherever they are placed. Need to outfit a chain of stores for your favorite client? These literature dispensing solutions are well-priced point purchase racks with a great design for any and all business environments. Moreover, they are extremely functional and you'll never run out of choices when you shop this line.