Business Card Drop Boxes for Elections, Charities & Trade Shows
---
Business Card Drop Box in Acrylic, Wood, Metal, Cardboard & MDF - Raffle Bins for Charity, Elections, & Feedback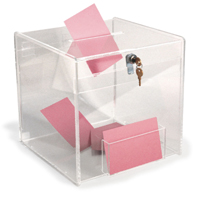 What kinds of business card drop boxes for elections and fundraisers are available? These ballot bins for wall and countertop come in a multitude of styles, colors, and sizes for trade shows and charity and political events. Many of the donation holders featured here are made of sturdy acrylic, with side pockets for dispensing leaflets or collecting lead information. A trade show business card drop box can be used in an office to engage employees in contests, boosting company enthusiasm! These locking suggestion bins help retailers solicit feedback from walk-in customers on the quality of service and goods for improvement. Each of these visiting card drop boxes, also known as ticket holders, can be placed in a prominent location at a community center, in a convention lobby, or by a retail store register to solicit comments about your business. Fundraisers love these small collection boxes with sign headers that can hold surveys and charitable contributions, while dispensing contact information. Each of the raffle bins that are business card drop boxes with contact pocket can be used for sweepstakes to collect entry forms. Many of these employee suggestion containers are locking, which keeps contents secure - which is especially important when collecting funds and keeping submitted information confidential.
Which properties of these ballot bins make them effective for advertising and solicitation?
A trade show business card drop box has a small footprint with deep drop space to store lots of votes, cash, and comments.
Side pockets can dispense a lead sheet about associates, and organizational publications describing an event or fundraiser.
Collection bins with sign headers identify the cause or event being promoted, while providing a sturdy backer that keeps contents safe within the drop box.
Fundraising containers are made of affordable & durable acrylic or metal, or MDF with a red mahogany woodgrain finish for an upscale look.
Ballot bins for elections are great for contests, elections, or give-aways in a professional office.
Suggestion boxes for retail stores can be placed strategically to encourage customers to provide valuable feedback on merchandise & services, or customer service experience.
Locking ballot containers in frosted acrylic, or solid colors are great for supporting student government elections because votes remain anonymous & secure.
Running a charity drive, special event, or fundraiser? Allow people to submit a filled-out entry form, cast a secret ballot, or provide written commentary on an organization soliciting feedback on merchandise. These drop boxes for business come in an array of styles to suit all manner of professional purposes. Many of these credential holders have acrylic side attachments for a lead contact collection that customers can take with them, as well as top headers for advertising the event or cause. The message or logo can be changed out without removing the vote containers from a wall, or emptying its contents. Place these bins, strategically at the doorway or cash register to pique customer curiosity before they leave a storefront! Certain entry form collectors can be purchased in frosted acrylic, or a dark color, so sweepstakes contents cannot be viewed in detail, which is great for anonymity. These displays for contacts easily attach to a wall with simply screws, or stand on a flat surface or countertop. Some of these locking ballot boxes are accessed from the top via Allen key, while others open from the back. Next time your organization conducts a raffle or runs an election, make sure to visit this website for quality, tamper-proof drop boxes at affordable prices! Easy to transport to a tradeshow from or to the office, these quality information collection system can be customized to specific needs - just call our customer care team to discuss. These accessories are just the ticket (pun intended) for any charity event, school, or town election and can be customized for different uses.