Multi Business Card Holders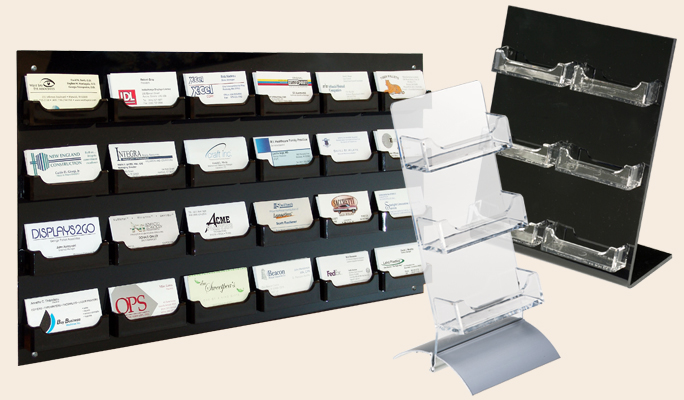 Single and Multiple Business Card Holders
Counter, Floor Standing & Wall Mount Holders in Acrylic, Wood and Modern Metal Styles
Contact Information Displays - Countertop, Wall, Outdoor & Portable Dispensers
Have you ever heard the expression that first impressions are the most important? The business card holder is a testament to its truth, in that for many professionals the printed accessory serves as both reminder and representative to customers, potential clients and vendors alike. Like the cards themselves, business card holders are available in a multitude of styles, sizes and configurations to match any need, or design. From pristine silver aluminum cases with architectural detailing to complement a bone finish namecard with silian rail printing to commercial-grade plastic wall mount organizers designed to house bulk selections to cheap acrylic counter displays to locking wooden drop boxes intended to hold contest entries or ballots, the purpose of this type of dispenser is to combine visibility and convenience. Our selection of business card holders, more properly called contact information card displays, contains organizers and dispensers in every style, all at wholesale pricing. Easily visible advertisements or merchandising information combined with accessible phone numbers, emails and other contacting methods can make all the difference in the world to a customer looking to mull over a decision before they buy. Alternatively, bulk displays can serve as both a convenience to passersby and a commercial opportunity for companies selling wholesale ad space.
How and where are different style contact information card displays used?
Single Business Card Holders range from portable carrying cases that help individuals store and protect their own information to simple countertop displays for reception areas or desks. Designed to hold anywhere from one card to a stack of 100 or more, this type of fixture is available in a variety of materials, from cheap clear or black acrylic that is ideal for bulk or wholesale corporate purchases to stylish faux leather or aluminum. Outdoor-rated versions are available which include tight-fitting lids to protect contents.
Multiple Business Card Cases & Racks are perfect for staff member directory or multi-company displays, as well as generating income by allowing companies to buy advertising space in the fixture. Commonly seen in stepped or tiered configurations on countertops, these accessories are also available as space-saving wall racks in either open-face or spring-loaded dispenser designs. Materials range from cheap clear acrylic to durable molded plastic, sturdy metal or even wooden construction to match furniture or décor.
Combination Collateral & Contact Information Card Displays are designed to showcase advertisements or marketing materials in conjunction with takeaway information cards. Varying sizes can accommodate brochures, single-page flyers or ads, sales circulars and catalogs. Available in indoor or outdoor styles for countertop, wall mount or even window display, these high visibility enclosures keep professional numbers, addresses and other information easily accessible while maintaining well-organized, tidy display areas.
Drop Boxes can be used for a variety of functions, from contest entries to fundraising, votes, ballots or suggestions. As with our other contact information card displays, these accessories are available in counter and wall-mount versions, and in a full range of materials to match any need or environment. Companies looking to offer branded off-site collection stations in multiple locations may choose to buy cheap acrylic fixtures in bulk, whereas professional service establishments may select classic wooden suggestion boxes for placement in break rooms or use at corporate meetings or trade show booths. Depending on the level of security needed, our drop boxes are for sale with or without locking capability.
Dispensing information on accessibility methods is an important part of any organization's operations, no matter what the industry. Printed professional namecards with telephone numbers, emails, corporate addresses and department information serve as reminders to customers and can be key sales drivers. Selecting the right business card cases & racks for any operation is a matter of matching form with function. Single card holders, multi-accessory racks and displays that showcase marketing materials as well as take-away information on how to be reached can help companies and individuals alike to succeed. The variety of available card holder designs, configurations and styles is nearly as varied as the designs being displayed. From specialized wall mounts for wholesale ad displays to personal cases that reflect individual as well as corporate style, our huge selection is sure to have what any professional, commercial, institutional or industrial establishment needs to get their message — and contact information — not just in front of, but in the hands of, their customers.
Looking for a particular style or design? Our parametric and text search functions will help narrow the selection process, or browse our entire inventory using the site directory.